Lately I wrote a post on how to build a relevant real time search engine prototype in few hundreds lines of code.  Using a tailored ranking algorithm based on link popularity in twitter,  I showed that the prototype was able to return very relevant answers in response to very hot queries like the ones that can be found in the hourly updated list of google hot trends.
I wrote a small program on top of this prototype to run an experiment: each hour, the program crawl the new list of hot queries from google hot trends, then it runs the prototype on each of those queries and keep the hottest link found in twitter for the corresponding hot query. I wanted to see which websites were mostly cited in those tweets talking about hot trends.
So I let ran the program for a week, collected the  links (more than a thousand), expanded all those into their long URLs version (using an improved version of my java universal URL expander),  extracted the domain names and compiled the whole into a top 10 list of the most cited websites. Here it is (click to enlarge):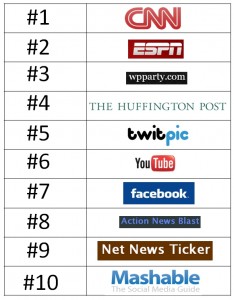 I was surprised to see some websites that I've never heard about before (like wpparty.com or actionnewsblast.com).
To have a better idea for which kind of hot queries/topics those websites are most cited in twitter, find below, for each of those top website, a sample of 5 google hot trends query they covered last week.
Few remarks:
All the links spotted by my prototype and that appear in the table are coming from real tweets around those google hot trends queries.
You'll notice that apple iPad announcement is a theme that was covered by 4 of those top 10 websites!
I recommend you to have a look on the youtube video in the table around the google hot trend "ipad a disappointment" :).
I also recommend you to have a look at the haiti 360 view covered by cnn.
For twitpic, it is only pics, so what you'll find there is a sample of "trendy pics" (see below for more on that…)
Sometimes the hot query seems to be not connected with the related article at first view (like with fred baron). But when you take a closer look, there is always a connection! This is not for nothing that people tweet about a link with the text of the hot query in the tweet…
To finish, find below a picasa collage that I built using the most cited twitpic pictures in twitter for this past week of hot trends (not only the 5 cited in the table). You'll identify easily some sarcastic pictures before the iPad announcement or pics around the election of Miss USA. Click the picture to enlarge.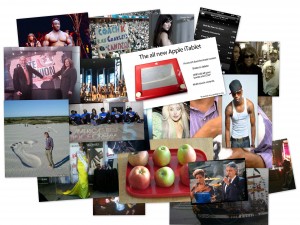 If you're curious to map some pictures with its related hot topic, click the collage to enlarge it and try to guess which pics correspond to which google hot query below :).
miss america 2010 winner, what celeb do i look like, miss america 2010, roberta flack, lady gaga and elton john, addicted to love, jim florentine, apple itablet, lost season 6 premiere, candy crowley, to make you feel my love, swagger crew, footprints in the sand, gasparilla, miss virginia, duke georgetown, celebrity look alike, katherine putnam, itablet, andrea bocelli, monster diesel, peta ad.